E-MAIL VERIFICATION (OPT-IN)
Growing spam regulations and compliance with accepted e-mail etiquette has forced Class Creator to disallow bulk e-mail messages to classmates who have not opted-in to receive them from class sites. The blocks imposed on Class Creator's mail server by MIPspace and others were hurting e-mail deliverability to all class sites.
Non-solicited e-mail messages are highly frowned upon. Today's spam rules require people to DOUBLE OPT-IN to receive e-mails. Double opt-in means that the person voluntarily requests to receive e-mails from the site (first opt-in – see E-mail Opt-IN: in Step 2 of Signing Up). If the primary e-mail address is valid, an e-mail verification message, sent to that address, contains a link that you must click on to confirm your wish to receive e-mail messages from this site (second opt-in).
The e-mail verification message looks something like this:
Subject: Action Required: E-mail verification for Crystal Lake Community High School Class of 1966
From: Tom Leigh <noreply@classcreator.com>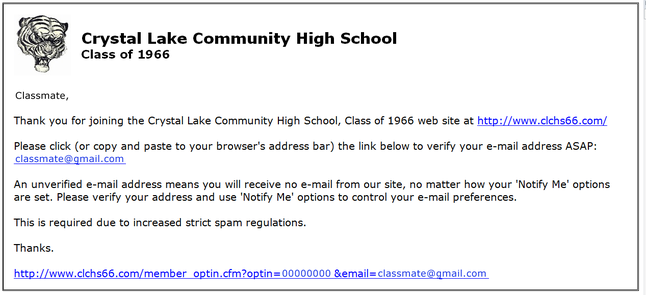 Please respond to this e-mail. You will receive no Notify Me e-mail messages without your address verified. If you have overlooked this e-mail, deleted it before responding, or your e-mail account filtered it to your junk/spam folder, you can send a new message to yourself.
Log-in to

www.clchs66.com

.
On the homepage, in the upper right-hand side of the page, find

Logged In: [Your Name]

Action Required:

Verify your e-mail address

.
You may also find a

Verify E-mail Address

link by picking the head & shoulder icon in the upper-right corner.

Click on either link.

On the displayed page, verify your primary e-mail address.

Click the

Resend Opt-In E-mail

button.

When you received the new e-mail, click the link at the bottom (or copy and paste the link to your browser's address bar) to verify your e-mail address.
The Verify your e-mail address link will remain on the home page until you verify your e-mail address. You may also see a message at the top of the home page - YOUR EMAIL ADDRESS IS NOT CONFIRMED. ...
Remember to whitelist noreply@classcreator.net on your e-mail account before resending.
Last Update: 06-14-16